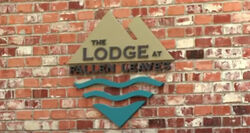 The Lodge at Fallen Leaves is a retreat run by Aubrey Posen, a former Bella who decided to run it after graduating from Barden Unviersity when she realizes that she had "a knack for barking orders and bending people's will so she had decided to make a career out of it." The retreat is mainly used to build teamwork skills where Fortune 500 companies send their employees to do so.
Description
[
]
The Lodge at Fallen Leaves is located near Barden, on the other side of the lake/river where Barden is situated. The retreat is described initially as nice, with the majority of the camp as landscape and greenery with the lake nearby.
There are no guest rooms in the camp, so visitors must sleep in tents. Activities such as water slides, ziplines and mud pools are situated around the area as well.
There are marked paths in the camp, and outside of those paths are bear traps for those who stray from the paths.
Role in the Film
[
]
---