Jurassic World: Dominion Dominates Fandom Wikis - The Loop
Play Sound
Lilly Onakuramara (real name: Esther) is a main character in the Pitch Perfect trilogy. She is the beatboxer of the Barden Bellas who happens to speak with a very little voice. She is portrayed by actress Hana Mae Lee.
Biography
Lilly auditioned and was accepted by Aubrey and Chloe as a Bella despite the fact that almost no one could hear her. She was constantly trained with her singing and choreography with the other new members of the Barden Bellas. During rehearsals she also asked Aubrey about the incident last year. Afterwards, the newly recruited Bellas were seen watching a video of last year's competition.
When Aubrey fought and kicked out Beca after the semi-finals, Lilly was one of the Bellas who got severely affected with Aubrey's extra uptightness. After that, Lilly was seen spending her spring break with a group of people who beatboxes. She then got a text stating that the Bellas were back in the competition and that they had to practice again.
The Bellas fought midway during the practice. Aubrey puked as she was being chased around by Chloe and Fat Amy. Attempting to stop their fighting, Lilly grapples with them but Fat Amy pushes her and shoves her into Aubrey's puke. Beca then enters and suggests that The Bellas say something about themselves that no one knew about to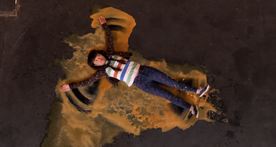 clear things out and to get to know each other more. Before the confession, a towel was placed on the chair she was supposed to sit in, considering the fact that her back was covered in puke. Lilly admitted to the fact that she ate her twin in the womb.
After the big fight and before the big finals, the Bellas decided to rehearse a new type of song. This lead Lilly to speak with her normal voice for the first time in the film. She competed with the Bellas in all of their competitions and towards the finals, she was able to sing in a more recognizable or louder voice. 
Lilly is still in the Bellas and still speaking in a little voice. She participates in the Kennedy Center Performance which ends as a disaster. She is present when The Bellas are suspended from the ICCA and not granted an audition. During the hood night, Lilly is shown to be combing her bangs while performing a solo dance and mysteriously peeking from the pool, being the only one at the party who entered the swimming pool. She participates in every Bellas performance, which always ended up abruptly.
She is present when the Bellas go to a retreat led by former Bella leader Aubrey. At night in the tent Lilly is seen licking an upset Beca's nose before sleeping. She enjoys the bonding treatment and outdoor activities provided at the retreat, and while stuck in a rope game Fat Amy shouts that Lilly said "she's an Asian Jesus!". When Beca got trapped by bear traps, Lilly cut the rope from the tree in ninja style and saved her before anyone else could do something they learned at the retreat to save Beca, and said she sleeps upside down like a bat, much to everyone's shock and confusion. During the campfire scenes where everyone tell each other where would they be after the graduation, Lilly softly said she's gonna travel through time. She goes to Copenhagen for the World Championship with the Bellas after the graduation, which they eventually won. She is last seen at Emily's initiation before she and other seniors left the college.
In the third movie, Lilly reveals toward the end in full voice that "Satan has finally left my body," before introducing herself to the rest of the Bellas as Esther. At the end of the film, Lilly begins a relationship with DJ Dragon Nutz.
---
Personality
Lilly is portrayed as a weird, quirky and quiet girl. In the Riff-Off, she can be seen making shooting gestures at the members of the Treblemakers during "No Diggity." She often says random and slightly disturbing things and speaks extremely softly anyone can barely hear her. Towards the end of the film, she starts speaking in her normal voice. As the second film depicts, she is back with her extremely small voice and continue with making her odd remarks. Apparently, she likes to light fires shown when she was talking to Donald.
Appearance
Lilly's outfits are mainly conservative and she has long, straight black hair she sometimes wears in double braids. She combs her bangs often. Her lips are small in shape and she has said that she was born with gills like fish.
Relationships
Relationship status: Friends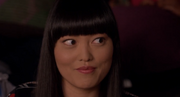 Just like Beca, Lilly was a new member of the Barden Bellas. When Beca got arrested in the film for destruction of property after the semi-finals, Lilly, alongside with the other Bellas waited for her in her room for the whole night. During the confessions that Beca started, Lilly was one of the characters who shared something to the group. During the tent scene in Pitch Perfect 2, Lilly and Beca slept next to each other and Lilly tapped Beca's nose with her tongue as a sign of affection.
Relationship status: Friends
Aubrey constantly says that she could not hear Lilly's voice. Nevertheless, Lilly was able to make it audible towards the end of the film. After the first Bellas meeting ended, Lilly expresses that she can finally go to the toilet after 3 hours, which Aubrey replies that she doesn't hear Lilly said anything. Unlike Fat Amy who just did horizontal running, Lilly was able to do the cardio that Aubrey instructed them to do during the rehearsals. When Aubrey fought with Chloe and Fat Amy, Lilly was the only one who attempted to stop them, but she failed miserably and fell down in a puddle of Aubrey's vomit. In the second film, as Lilly said "just gonna travel through time", Aubrey gave a confused look as she couldn't hear her properly.
Relationship status: Friends
Other than Aubrey, Fat Amy was one of the people who could barely hear Lilly. In the end, Lilly was able to speak in a normal audible voice which triggered a sarcastic reply from Fat Amy, stating that she didn't need to shout.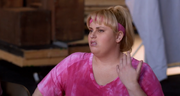 In the second film, as Lilly says she's gonna travel through time during the campfire scene, Fat Amy rolls her eyes.
Relationship status: Acquaintance, possibly friends
Lilly is seen sitting with Donald, who was driving the Treblemakers bus to the semi-finals. She seemed to be in awe of his beatboxing. Their interactions on the bus were cut out but can still be viewed in the deleted scenes.
Donald was pretty much the only one who could hear Lilly when she spoke in whispers, considering their conversations in the bus. Also she shares with him that she sets fires to feel joy and doesn't tell the others.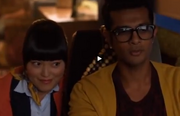 Trivia
Lilly (according to her lines) ate her twin in the womb, was born with gills like fish, did a turn at county, asked if the Bellas wanted to see a dead body and sets fires to feel joy.
Lilly made a "puke-angel" by making a snow angel out of Aubrey's puke.
A portion that was cut out of the final movie included the Bellas and the Treblemakers warming up in the bus. During this time, Lilly tells Donald, "I like it when pretty boys dress in drag and perform for me." She also tells him, "I like to watch babies cry, on my leisure time."
Lilly also has a constant habit of combing her bangs.
In the first film, Lilly was chosen to be a soprano. There is an error at training the next day, Aubrey told the sopranos to sit at the front, altos at the back. Lilly sat at the back.
In the third film, according to her passport, Lilly's birthday is February 9, 1993 and she was born in Area 51, Nevada.
She claims to have the ability to time travel.
Lilly reveals that her real name is Ester, which is a possible nod to Ester Dean who plays Cynthia-Rose in the Films.
Quotes
Pitch Perfect
"I ate my twin in the womb."
- Lilly (Confessions)
[Lilly beat boxes]
"You're pretty good!"
"I set fires to feel joy."
"That's adorable."
- Lilly/Donald (On the bus)
"Hi, my name is Lilly Onakuramara. I was born with gills like fish"
- Lilly (Audition)
​​"What happened last year?… And do you guys want to see a dead body?"
- Lilly (During rehearsal)
Pitch Perfect 2
"I keep a penny under my tongue."
- Lilly
"I sleep upside down like a bat."
- Lilly (At Camp)
Pitch Perfect 3
"Cool beans."
- Lilly
"Satan has finally left my body."
- Lilly
"Hi. I'm Esther."
- Lilly (Introducing herself in normal voice)
Gallery