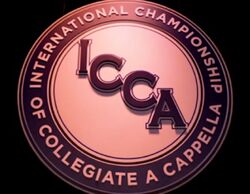 The International Championship of Collegiate A Cappella, also known as the ICCAs, is the annual competition for college A cappella groups.
Overview
[
]
Now run by a company called Varsity Vocals, along with a high school championship, it is depicted in the film Pitch Perfect and the actual director of the competition has an uncredited cameo as a Regionals judge, according to the home video commentaries.
While the 2012 competition season is depicted in the film as leading to finals at Lincoln Center the real ICCA finals moved from Alice Tully Hall (the sixth largest auditorium at Lincoln Center) to Town Hall (elsewhere in Manhattan) for 2012.
Rules- Not much rules are stated in the film except that all of the members of the a-cappella groups should be college students