Jurassic World: Dominion Dominates Fandom Wikis - The Loop
Play Sound
Bumper Allen is the main antagonist in Pitch Perfect and a supporting character in Pitch Perfect 2. He was the arrogant and self-centered leader of The Treblemakers before he left to be John Mayer's back-up singer. In the sequel, he returns to Barden University as a security guard, and eventually joins The Tonehangers.
He is portrayed by actor Adam DeVine.
Biography
Personality
Bumper is the leader of an extremely successful all-male a cappella group, The Treblemakers, and his arrogance comes at no surprise. It first rears its ugly head when Benji Applebaum first introduces himself as a fan, after which Bumper rebuffs him, indirectly calling him weird.
Bumper is also a capable leader and a talented singer, as it is mentioned during the regionals that he has gained enough fame to successfully launch his own line of sports sandals. Though it is shown how close he is to the rest of the Trebles, Bumper is also extremely self-centered, as when he was contacted by John Mayer to perform backup, he leaves the Trebles without a second thought just days before the championship. 
As with most other characters in the film, Bumper is a very passionate a cappella singer.
It is implied that the Treblemakers feel the same way for Bumper as the Bellas do about Aubrey, only much more so, as one of the Trebles calls Bumper a jerk. Just before the Bellas' performance at the 2011 ICCA finals, Bumper lobs a couple of insults the Bellas' way.
Appearance
He has a dark brown hair. Out of competitions, in which he wears his group uniform, he wears t-shirts and short pants. His Barden University security guard's uniform also comes with a short pants rather than a long one. His fame possibly made him dress nicely since he is the center of the attention. He even launched his very own sports sandals brand, which imply that he actually has a little knack for fashion.
Relationships
Major Relationships
Relationship status: Dating
Fat Amy and Bumper are usually seen fighting and bickering. One of which is when Bumper insulted her during the Aca-Initiation by calling her the most disgusting human being he's ever seen, and she casually replies that he is not the most handsome person he ever seen either. 
Bumper does mean things to her like hitting her chest with a microphone and throwing flying Mexican food at her. They are also seen insulting each other in the Treblemaker's bus. Though the two seem to portray a hate relationship, there are several hints that show how the two are interested with each other, and many of their fights seem more teasing rather than actual hate. Bumper shared to her about getting a feeling of kissing her during the aca-Initiation night. This was also supported by him inviting her over to his dorm and when they comedically touched each other in the deleted scenes. Later on when the Bella's bus ran out of gas, Fat Amy was also shown to have Bumper's number, implying that the two have a romantic relationship that nobody knows about.
In the sequel, their relationship is developed further. He and Fat Amy exchange insults during their first reunion at the party, and sneaks out together, implying they're going to hook up. He surprised Fat Amy and asked her if she wants to have sex with him. She said no but winked at him hinting she did want to but is trying to deny it. Having fallen in love as the film progress, He profess his love for her, but she rejects him, saying she doesn't like being tied down, and then he cries. Later on, Fat Amy realizes she is in love with him and decides to pursue him. She sings We Belong and sails through the lake. Hurt, Bumper tries to rebuff her at first, but as she sings, he forgives her and they reconcile. He becomes her boyfriend. It's revealed they are in love with each other.
Minor Relationships
While he seems to lead the popular Trebles, near the end of the film it is revealed that The Trebles hate him, just as The Bellas did.
Relationship status: Best friends, Hatred (Donald's side)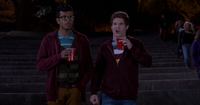 Donald is Bumper's right hand man and at first, seemed to be his best friend or the one he was closest with in the group. They are always seen together. They briefly debate about Captain America and great white sharks during the aca-initiation as seen in the film and the deleted scenes. However, in the near end, it is revealed that Donald thought that Bumper was a jerk. Donald was also willing to kick Bumper out of the Trebles.
Relationship status: Friends, Hatred (Unicycle's side) They do not interacted on screen during most of the film, but as Bumper leaves The Trebles just days before the Finals, Unicycle states that he is a jerk.
He insults him, calling him a weirdo after Benji express his admiration for the Trebles. It is revealed that he accepts
Jesse
to the Trebles, but rejects his new best friend Benji after the auditions, much to Jesse's confusion.
Relationship status: Enemies
Bumper and Alice seems to take a huge disliking for one another due to their group's rivalry. Bumper often insults Alice and the Bellas as his think they are lame with lack of talent and skills. He also often boasts to Aubrey about the Trebles' accomplishments. Aubrey and Chloe are no exception from Bumper's arrogance. During their struggle to held an audition, Bumper took a chance to insult them, like everytime.
Trivia
He writes his own fan mail.
He has his own brand of sports sandals.
As a running gag in the first film, he and Fat Amy often exchange insults and flirts, which turns to be explored to a more serious relationship in the sequel.

Actually, their storyline was not in the script. Their actors Adam DeVine and Rebel Wilson would improvise. This lead them to create a backstory for their characters. The filmmakers thought the hostile sexual chemistry between them was funny and kept some of the scenes, though there was a lot that was cut according the two actors.

Near the end of the first film, it is revealed that his fellow Treblemakers actually hate him.
In the first film, after the semi-finals, he ignites a fight between The Trebles and The Tonehangers as he insults and undermine them for no reason (might be for his own satisfaction). Ironically, he is seen as one of the Tonehangers members in the second film.
Gallery