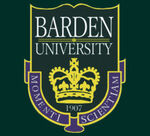 Barden University is a university located in Atlanta, Georgia, it is the home of four rival a cappella groups: The Barden Bellas, The Treblemakers, The High Notes and the BU Harmonics.
Overview
Barden University was founded in 1907, it houses the college students on the campus, and is complete with a radio station that broadcasts around the school, a café, and an empty dance studio, which is where The Barden Bellas rehearse in.
Trivia
The film was shot at the Louisiana State University (LSU) in Baton Rouge, Louisiana, a school that Anna Kendrick wished to attend in real life.
Barden University has a quidditch club as seen in the background when Beca and Fat Amy are at the Barden DJ's (Deaf Jews) table.
The school's mascot is called the Barden Knight.
The university and its "Schnee Performing Arts Center" are presumably named for the film's casting directors, Kerry Barden and Paul Schnee.
Gallery